15 04 2009 - Google is spending more than $2 million a day on YouTube and it is nowhere near seeing a return on that investment. Indeed, it may be losing up to $1.65 million daily on the video site.
According to financial firm Credit Suisse and Internet measurement provider comScore Inc. , YouTube Inc. is on track to serve 75 billion video streams to 375 million unique visitors in 2009.
That's the good news. The bad? To support those visitors, Google (Nasdaq: GOOG) will spend more than $2 million dollars daily -- to be exact, up to $2,064,054 a day, or $753 million annualized, according to Internet Evolution calculations of YouTube's costs derived from a range of sources, including Bear Stearns & Co. Inc. , comScore, Credit Suisse, and Google itself.
Now, Google does not disclose sales figures by division, so there is no definitive revenue number for YouTube. The range of estimates from financial analysts stretches from a low of $90 million (Bear Stearns) to a high of $240 million (Credit Suisse).
All the numbers are well below the estimated maximum of $753 million Google is spending annually, based on our calculations. So, depending on whose version of revenues you accept, Google is losing anywhere from $513 million to $663 million annually on YouTube, or anywhere from $1.4 million to as much as $1.65 million every day (see chart below).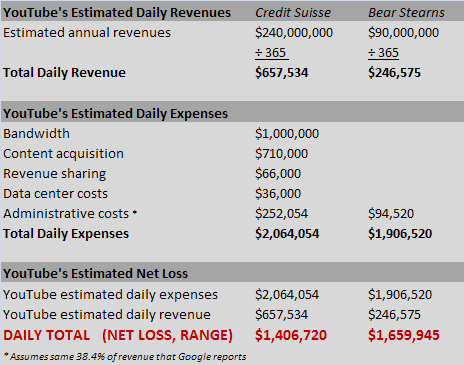 Let's make it personal: The average visitor to YouTube costs Google more than a dollar ($513 million to $663 million in estimated losses divided by 375 million unique visitors).
In effect, Google is paying you to enjoy YouTube videos. In return, it gets the chance to show you some advertising. But adoption of those big-ticket items (YouTube sells homepage roadblock ads at $175,000 per day and branded channels at $200,000 apiece) has been limited, and Google AdWords image advertising remains the primary revenue source for YouTube.
A YouTube spokesman declined to comment on these figures or any conclusions of this blog.
Meanwhile, to deliver YouTube, Google is bleeding money in the following areas...
Bandwidth: If YouTube will get 375 million unique visitors in 2009 and each user downloads video at 400 kbit/s (based on figures from a range of sources), the cost to Google of YouTube bandwidth is a minimum of $1 million a day. This assumes YouTube is paying a minimum of 50 percent of the lowest market rate for megabit-per-second services.
Content acquisition:
YouTube gets lots of user-generated video for free, but it has to pay for name-brand videos from sources like Sony/BMG and CBS. According to Credit Suisse, YouTube could pay up to $260 million -- about $710,000 a day -- to acquire content in 2009. Notably, Google just inked a
deal
with Disney to get short clips from ESPN and the Disney/ABC Television Group. More publicity for YouTube, more visitors -- but this is an expense, as YouTube pays royalties to Disney.
Revenue share: If you provide videos to Google and join its revenue sharing program, then you get a commission if ads are shown alongside your content. Credit Suisse estimates that YouTube will "share" away $24 million this year -- $66,000 per day.
Hardware, storage, software, collocation, electricity, etc.: Every minute, Google claims that 15 hours' worth of video is uploaded to YouTube -- equivalent to 86,000 new full-length movies weekly. Credit Suisse estimates the average video uploaded is 30 to 40 Mybtes and that YouTube is storing at least 5 petabytes of video. Given market estimates of about $2 per gigabyte, it's possible Google spends roughly $13 million -- $36,000 every day -- to store YouTube's stock in trade.
Other overhead: Add to the costs just mentioned all the overhead it takes to run any business -- sales, marketing, administration, all the elements that comprise cost of revenues. On December 31, 2008, Google spent 38.4 percent of total revenues on these items. Assuming the same percentage for YouTube and factoring high-end estimated revenue of $240 million for YouTube in 2009, the cost of YouTube revenues conceivably amounts to roughly $92 million, or $252,054 daily. If you prefer the low-end revenue estimate of $90 million, the cost of YouTube revenues would be $34.5 million, or $94,520 per day.
Now take this economy, in which advertising revenues are declining while all of YouTube's costs are increasing. The forecast is only that Google will start losing more money per day.
On the lighter side, you have to give Google credit for losing money with class! The first participant in its recent "Call to Action" for nonprofit partners raised over $10,000 in one day from a video. Classy of Google, yes. It might also be a tax write-off against its monstrous losses from YouTube.
Source: Internet Evolution